blogue
profil
échappement
Œuvre d'art
etc.
Sunday, October 24, 2010, @ 5:01 PM
Ratu 4L4y
I guess this post's for Indonesians only, since it's in Indonesian and it's hard to translate.
Okay, so here in Indonesia we have a nickname for someone who tends to wR1t3 L1k3 Th1s,,,,,
We call them 'Alay', and we hate them so much, they're annoying.
For Indonesians! Found this
here
, hilarious!
ALAY QUEEN!
QmO dLaM iDopQhO (kamu dalam hidupku.. )
q tWo……………… (aku tau…… )
qMo mANk cLiD wAd cYanK m qHo…………. (kamu memang sulit buat sayang sama aku…)
tPhE qMo pLu tHwO""" (tapi kamu perlu tau….)
mY LuPi"………… (my love, cintaku -btw, lupi lupi di kuping aku kedengerannya kayak permen yupi. ehm)
aLwaYs 4'U…………… (always for you, cuman buat kamu)
cO'nA cMa qMo YaNk Co WaD qHo cYuM………… (soalnya cuma kamu yang cowo buat aku senyum -oke ni si ophi jelas jelas tidak mengikuti kaidah yang benar dalam membuat struktur kalimat)
k'tHwA"""""""""" (ketawa…)
n cNeNk…………….. (dan senang)
tHanKz b'4"""""" (thanks before, terimakasih sebelumnya)
yOz aLaWAiCe d bEzT……………. (you always the best, kamu selalu yang terbaik -ALAWAICE? HAHAHAHAHA LOL)
iN meYe heArD"""""", (in my heart, dalam hatiku -btw MEYE? APA ITU HAHA)
tHo_tHo………….. (dadah -ini dadah doang ribet banget nulisnya)
LupHz yOu"""""", (love you, sayang kamu)
bU_bU""""""(bubu)
——————————————
I'm ReGrEeEeeEEeeEet nOw……………. (aku menyesal sekarang)
naFaZ""""""""", (napas)
bNcHi qOh nGmBAnK………………. (benci aku ngambang -oke si ophi uda mulai jorok, ngambang ngambang)
hOeKkkKKk…………….. (sound effect muntah, HOEEEKK -tuh kan muntah HAHA)
.
nPhA jDe gnE??????????????? (mengapa jadi begini?)
i dOn't LiKe tHaT………….. (I don't like that, aku tidak suka itu)
qOh g Mo iDoP dLAM kmNfqAn………. (aku ga mau hidup dalam kemunafikan -WUESSS angin berhembus)
tHiZ iZ buLLsHiT!!!!!!!!!!! (this is bullshit!, ini semua omong kosong!!! -penuh amarah membara)
sHiT!!!!!!!!!!!!!!!!!!!!!! !!!!!!!!!!!!!!!! (shit!!!!!! TA* -hahah ophi marah marah ngomong yang kuning kuning kayak banana)
SADAM WITHOUT WORD!!!!!!!!!!!!!!!!!!! (sadam without word, sadam tanpa kata -WTF tiba tiba bawa sadam? ato DIAM maksudnya? OH DIAM DEH KAYAKNYA. bzzzzzzt)
HAifTf……………… (huff)
—————————————–
TaKe mE 2 yOuR hEaRtZzz?????????????????? (take me to your heart, bawa aku ke dalam hatimu)
cXnK qMoh tO cKiDnAAAAaaaAaAaaaa……. (sayang kamu tuh sakitnya…)
m_tHa apOn YoH……………… (minta ampun ya…)
qoH tLuZ"aN uCHA bWaD tTeP qEqEUh cXnK qMo………. (aku terus terusan berusaha buat tetep kekeuh sayang kamu…)
bUD""""""""", (but, tetapi…)
hUhuHuHfTFTf………….. .. (huft huft -ehem ophi centil deh)
cIa" adJA………………… (sia sia aja -CIA? hahahah)
shIt???????????? (TA*??????)
maYbe??????????????? (maybe, mungkin?????)
ckIdDDdddDDDd"""""", """"""""""""" "" (SAKIIIIIIT! -ini ngomong sakit doang kayak suara ban ngerem ehm)
pGEn qOh tO bLanK…………………….. (pengen aku tuh bilang)
U bLOkE mY hEaLtH!!!!!!!!!!!!!!!! (you bloke my health, kamu cowo kesehatanku, atau kamu merusak kesehatanku? -HAHAHAHAHA YOU BROKE MY HEART KOK JADI YOU BLOKE MY HEALTH? jauh gitu artinyaaaa! LOL)
i tHinK…………….. (aku pikir…)
it'Z DISGUSTING vOiCE……………….. (itu suara menjijkan -naon deui si ophi ga nyambung ehem)
anDeE…………………. (andaiii…)
adJA g2 dRe wAL…………….. (aja gitu dari awal)
qTaH gAg mKeN dIEM"aN gNe tOh???!?@??@?@??@@?@? (kita ga makin diem dieman gini tho'?

Friday, October 22, 2010, @ 9:49 PM
Random.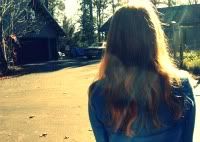 "You eat, you're fat. You don't eat, you're a freak.
You read, you're a nerd. You don't read, you're stupid.
You tell a secret, you're an attention seeker. You don't tell a secret, you're still attention seeking.
You let someone in, you're easy. You don't let someone in, you're too uptight.
You wear make up, you're a slag. You don't wear make up, you're ugly.
You can't please anyone. ever."
Wednesday, October 20, 2010, @ 12:44 AM
Finally!
Finally! Spare time! In the middle of the night!
It's 12:32 AM now in Indonesia and I can't sleep, so I figured why not right a little something here. To keep it updated after 1 month of absence.
Oh my God school is seriously tiring. It's taking up my sleeping hours, my eating hours, my having-fun hours. There are just so many chores to be done that our heads are starting to crack of pressure. Though I gotta admit, it's pretty fun too. Makes me feel like I'm already in college, with all the projects and presentation (yes, no more worksheets or written essays for home work).
Thankfully my school grades are doing pretty well. At least they're acceptable.
So what should I blog about? Hmm.
I'm thinking of posting a few pictures later on Saturday, there are photos that I've taken during my trip to Central Java (for the holiday) and Singapore (during the school days). The Singapore trip was pretty fun, I got a new obsession : Huge Gigantic Rings. I bought one at Bugis, shaped like a red ribbon, which I lost *sob*, another Rose ring I also bough at Bugis, and a Forever 21 ring I bought at Orchard Road for $9 (My favourite..)
And I'm in the hunt for more!
Anyway, I finally got my June Wishlist complete (some), the oversized off-shoulder tee I got at Cotton On, the washed-out denim shorts that I also got at Cotton On, and the Brown Strappy Wedges I got at a little store in Bugis (forgot the name, Miutju or something).
Still haven't fulfilled my wish to learn french and learn cooking, unfortunately. But I plan to next holiday, like take classes or something. I wanna learn them more effectively. Haha.
What else.. What else..
Oh yes, I gained 2kg, so I'm now 54. I gained 3 kg when I went home from Central Java but managed to loose 2 kg. Then, I gained 1 kg again. Agghhh. I also got really lazy to get up on Saturday morning and head to the gym. I haven't payed for this month's gym membership, OMG. What a mess.
I promiseeeeeeee I'll go to the gym this week. *fingers-crossed*
Anyway! we're going to the orphanage this weekend, I'm supposed to buy lots of healthy snacks for the kids, 10 adult-sized toothbrushes, 40 baby-size toothbrushes, and 50 toothpaste. Again, more work.
Anyone have any idea on the healthy snacks? Cause I got no idea what I should give them. Cakes? Milk? An Apple?
*sigh* I gotta try to sleep now, I got school tomorrow. Honestly I don't know where I'll be able to post here again. Hff.
Maybe I should post some of the assignments that the teachers give us, after all they're kinda out of the ordinary.
Au revoir ! Bonne nuit!